| | |
| --- | --- |
| | The joint product of APIS and INTERLEX CONSULT is the only one officially licensed by the Organisation for Economic Co-operation and Development (OECD) Bulgarian translation of the latest and the most current 2010 year`s version of the OECD Model Tax Convention on Income and on Capital (condensed version) which is used in all Member States of the European Union and in most other European countries. The condensed version also includes commentaries (together with the reservations of the countries) on the articles of the Model Tax Convention and the OECD non-member countries' positions. |
For the first time in the OECD`s practice so far, APIS obtained a license for publishing the Bulgarian translation of the Model as an electronic product. The system offers a variety of conveniences to its customers:
links between the articles of the Model, the commentaries and the positions toward them on an article, paragraph, point and letter level;
links between the commentaries on the articles of the Model and the corresponding articles in each convention for the avoidance of double taxation concluded from Bulgaria on the basis of the Model;
links from the case law of the Supreme Administrative Court and the other Bulgarian administrative courts to the Model and the commentaries to its articles;
guidelines and instructions of the National Revenue Agency in relation to the application of the Model and conventions for the avoidance of double taxation.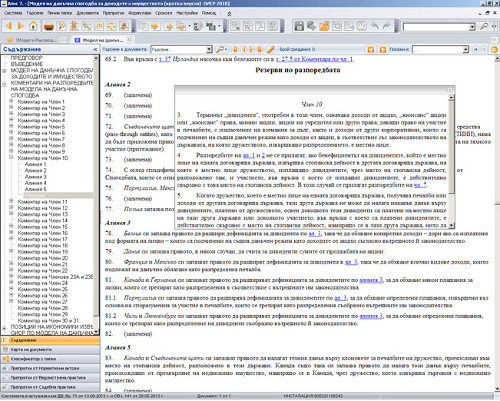 For customers convenience APIS developed an innovative interface with a basic and two additional windows that makes it possible to view at the same time the articles of the Model and the corresponding commentaries and positions.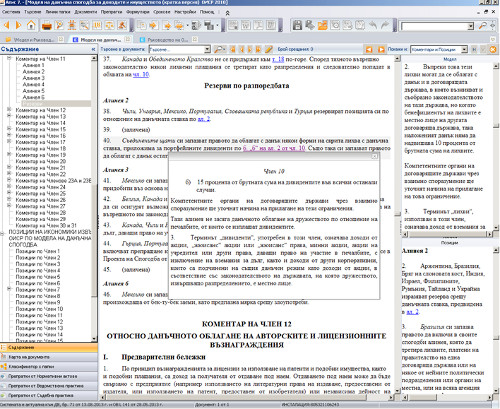 The additional windows can be displayed, hidden or resized just like the left window with extra features and content.
New functionality is also the "Forward" and "Backward" moving inside the document after clicking on the hyperlinks.